Color green usually symbolizes optimism, movement forward, hope, and growth as it is associated with nature which evokes a sense of vitality. Don't trust me? Just think about all the green stuff in your life like traffic lights, plants, trees, and so on.
Especially when it comes to St. Patrick's Day, it's featured of a whole lot of green and green can be decoded in many other way. This is because the Irish Catholic Confederation has used green harp flag in 1640s and then green has further associated with Irish nationalism and represented for "the sacred emblem of Ireland's unconquered soul".
Image from Waterloo-Cedar Falls Courier
But green is not just for the special day. Many celebrities now rock the green outfits into new chic elements.
Left Image: Source from FameFlynet
Middle Image: GettyImages
Right Image: 

RACHPOOT/MEGA/GC IMAGES
Even The Duchess of Cambridge is so fond of green outfits, Kate's medium-dark eyes is perfect to wear green that make her look effortlessly elegant, glowing and refined.
Considering unlike color black or white that can go with everything easily, you might wonder "what ways does green look best?" "what colors can I go with green?" "How do I wear green without looking like a Leprechaun?" Well, keep scrolling down! We'll answer all the questions for you with 4 useful tips.
#1. Re-fresh it with Floras or Checkerboard Prints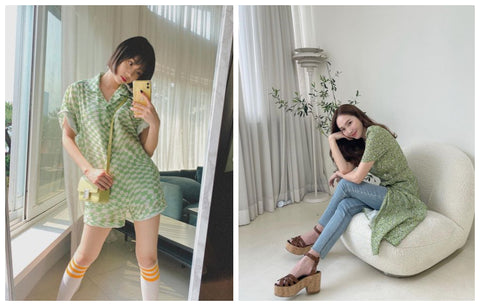 Right Image: aespa_official
Left Image: @jessica.syj
Big winter goodbye with spring color. Colorful floras or sophisticated checkerboard prints could add freshness and spring vibes to your fit. Especially the floral, what goes together better than greenery and floral to create a natural fit? As for checkerboard prints, it can not only provides with a feel more at carefree and ease but also can help you make a fashion statement. Check our last week's blog Checkerboard Trend is Back in 2022: Explore 4 Easy-to-Follow Looks to explore more!
RECOMMENDATIONS
#2. Pick Complementary Colors
  Applying complementary colors which refer to those colors opposite on the color wheel is usually a good idea from a color harmony standpoint. The complementary colors of green are blue, purple, orange, pink, red, and yellow. If you keen on red, please avoid Santa Red. Otherwise, you will have too much Christmas vibes on you. We actually recommend you try purple or yellow to brighten your whole look.
RECOMMENDATIONS
#3. Try the Analogous Color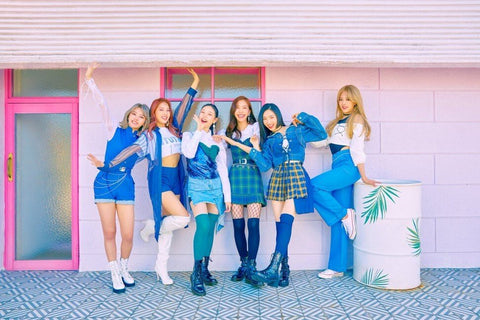 Analogous colors refer to those combinations of colors that are adjacent to one another on the color wheel which can create natural color harmony. Green and blue are perfect matching analogous colors. But in order to balance your look and maintain the harmony, please remember to avoid blue or green in super high saturation as well as pick those pieces in clean and clear design without too much exaggerated decorations.
RECOMMENDATIONS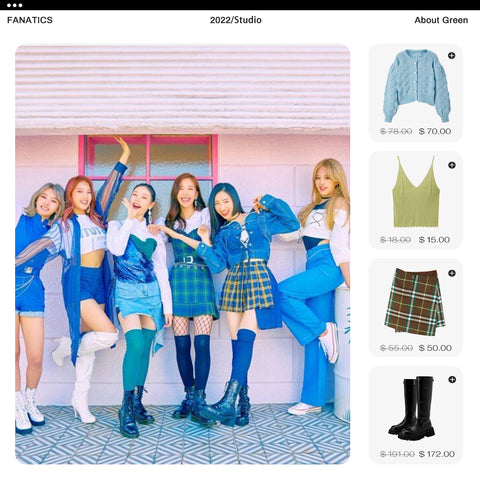 #4. Bring the black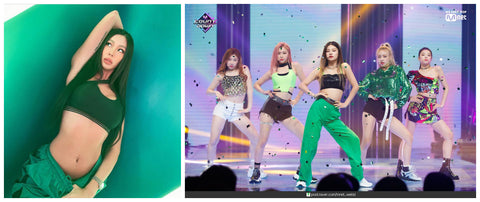 Right Image: @itzypicz 

 

Left Image: @jessicah_o
Who says when black meets green, you can only have serious and almost somber vibes that suits business meetings and other professional settings? Pair a light green outwear with a black crop can maintain your cute but sexy mature look. Decorating with funny earrings will upgrade your look just like Da-Hyun's did.
RECOMMENDATIONS
Don't be scared of wearing green because it can really re-fresh your wardrobe if you know the right tips for pairing with it. You could be the most charming and eye-catching one in the crowd with the help of green (not only in St. Patrick's Day!
Don't forget to leave your comments below. Tell us anything you're eyeing from above? How do you usually wear green?