"The checkerboard pattern makes a fashion statement: This is who I am. I love fun and all the happy time"
                                                                                             -----Jacob Gallagher

Spring wardrobes used to be about stripes and floral. But the checkerboard fashion is back and is claiming its title as one of the most distinct fashion elements.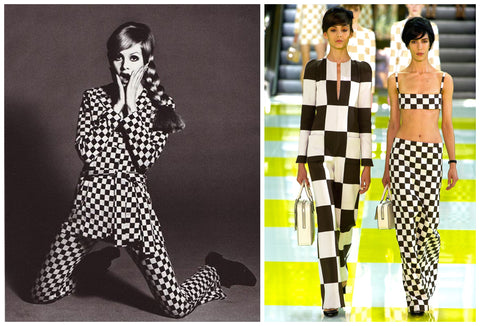 Left: Image from Pinterest
Maybe you still remember the iconic photos of Twiggy wearing white-and-black suites in 1960s or those pieces with eye-catching checks that Marc Jacobs designer for the 2013 Louis Vuitton Spring Presentation. Checkerboard prints have been proved many times that how classic and sophisticated they can be.
However, in terms of today's checkerboard pattern design, it feels more at
carefree and ease
, such as Prada's mixed-print knit vests and Louise Vuitton's recent menswear in green-and–white checkerboard suits. Brands like
Peacebird
also incorporated checkerboard into accessories such as hair clips and berets.
In terms of the special meaning, Checkerboard prints have been decoded in different ways. The very first time it was introduced in music industry, it was used as a symbol to call for fighting against racial segregation. But for Peacebird, as a fashion brand that devotes to making everyone enjoys the fun of fashion, we hope checkerboard could be a touch point that reminds you all of those better times and happy days before the COVID-era. Each one of the checkerboard pieces will evoke a sense of joy and pleasure.
If you love to give them a try, here are the best 4 checkerboard fashion looks you should start with.
Look 1: Timeless Polo Checkerboard Dress
Left: Image from The Queen's Gambit
Right: Image from @sooyaaa__
If you are a fan of minimalist style, then a stylish black polo dress with little checkerboard prints must be a good choice. Enjoy the chic and casual design that is equipped with an exquisitely feminine feeling. To add several comfort and elegance, the cut could be slightly fitted but fairly loose in the meanwhile and the collared mini dress length could be slightly above knees. Having wear it on, hope it could remind you of those happy times when you had afternoon tea with friends after a long-day travel.
RECOMMENDATIONS
Look 2: Monogram Black Mesh Top Long Sleeve
Image from Blackpink DDu Du DDu Du
The monogram prints brought a new era of checkerboard style which perfectly incorporated into clothing in a stylish and unique way without going overboard. Wearing top-to-toe with iconic checkerboard prints and cheering up for your super idols in the matchy-matchy monograms. Do you miss those times when you could plan an international travel just for a concert?Not a fan of a concert but want family matching outfits? No problem! The monogram prints plus a cute graphic could bring lots of fun to kidswear.
RECOMMENDATIONS
Look 3: Checkerboard-Print Denim
Images from GettyImages
No matter the occasion might be, denim will always be the must-haves. They are elegant but effortless and are suited for walking besides the sea at the weekend or holding parties at a fancy hotel. By decorating with checkerboard, the denim pieces will stand out amongst the rest of the brand's street wear offering.
RECOMMENDATIONS
Look 4: Checkerboard Design Accessories
Left: Image from Your Next Shoes
Right: Image from Pinterest
Still feel checkerboard print clothing a little bit exaggerated and intense? That's totally fine. If you prefer a subtle approach, styling with checkerboard design accessories to re-fresh and upgrade your fashion look. Pull your hair back with a checkerboard clip, wear a checkerboard beret, or pair your outfit with a soft checkerboard scarf. 
RECOMMENDATIONS
Hope checkerboard means not only a fashion style but also represents your happy memories. Don't forget to leave your comments below and tell us what the checkerboard reminds you of.