Friends: The Reunion which was officially released in March 2021 has had us taking a trip of memory in celebration of our favorite comforting sitcom. I believe many of you are thinking about re-watching the whole series. Maybe you miss the time when you ate watermelon with your sisters and waited for the love ending of Rachel and Ross in the summer of 1990s. Perhaps you are just tired of choosing a new TV drama again that is currently on.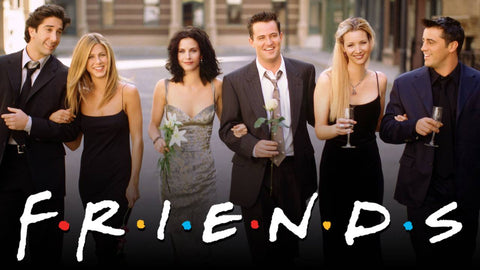 Image: from NameChef
Well, here is another excuse for re-watching Friends again: Fashion. Although many things about the show haven't dated, the fashion of core female characters has definitely passed through the test of time. The outfit ideas of Monica, Phoebe and Rachel Green short long skirt always inspire fashion influencers' new looks.
You agree with me but don't know where to start? Let's first look at T-shirts (a basic single piece but a must-have in everyone's wardrobe) today!
#1. "With Denim Pieces"
Image: from lujuba
Denim pieces such as jeans and denim overalls are a 1990s classic vibe. The episode which Rachel tries to revenge after Chandler accidentally sees her wandering around topless is full of fun and interest. Rachel throws on a white T-shirt as a base has a very sporty and athleisure style. Even our "bossy" Monica and "Smelly Cat" Singer Phoebe love paring t-shirt with denim. Can you still remember the storylines?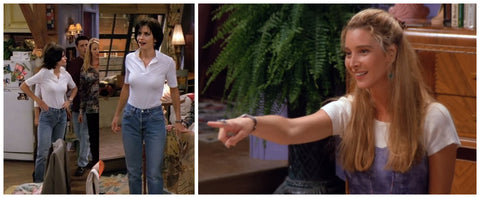 Left Image: from Pinterest
Right Image: from We Heart It
RECOMMENDATIONS
#2. "With

 

a Skirt"
Our best dressed lady Rachel is absolutely a skirt lover. How could she not know that paring t-shirt with a skirt will never go out of style? Rachel's creamy-white turtle-neck t-shirt adds elegance vibe and makes this scene very key fashion moment.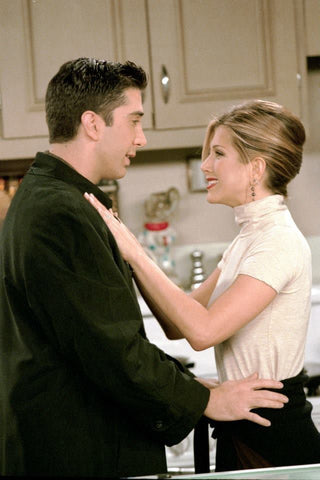 Image: from Popsugar
Scroll down to see what any other skirts that Miss Rachel Green loves paring with t-shirts. Obviously, besides choosing colors like black, Rachel also loves combine cute with classy in a way that made her an instant style icon by choosing flora or plaid skirts.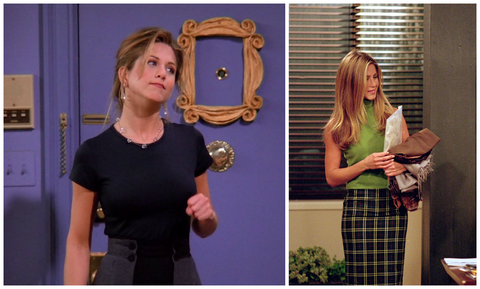 Left Image: from BuzzFeed
Speaking of Phoebe, she keens on Bohemian fashion style. Even if dressing in a T-shirt, her ambitious hair arrangements and funky attire were always unique to her.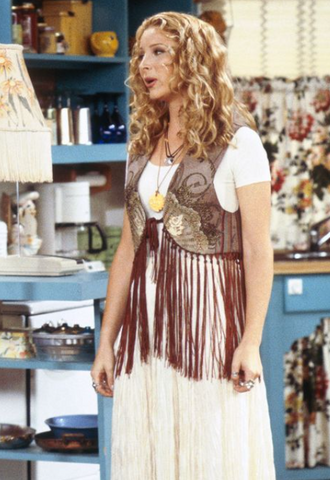 Image: from Pinterest
RECOMMENDATIONS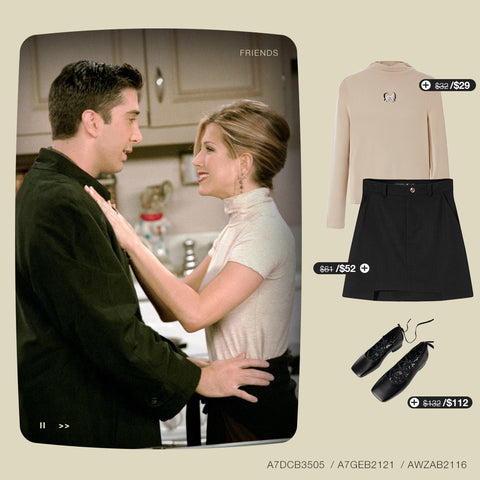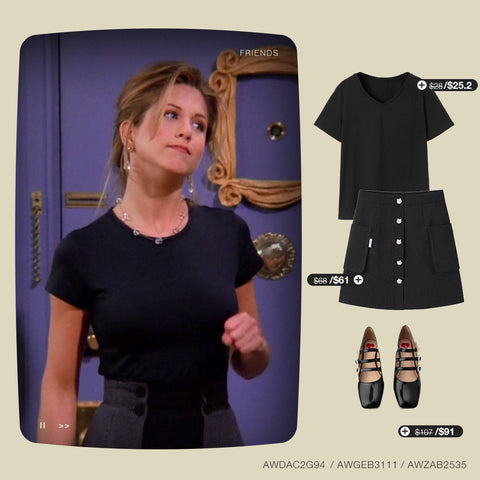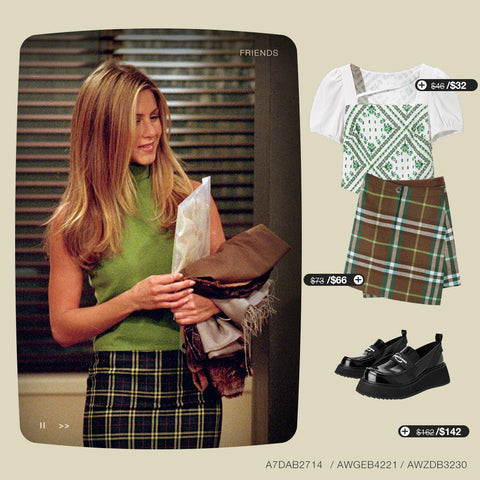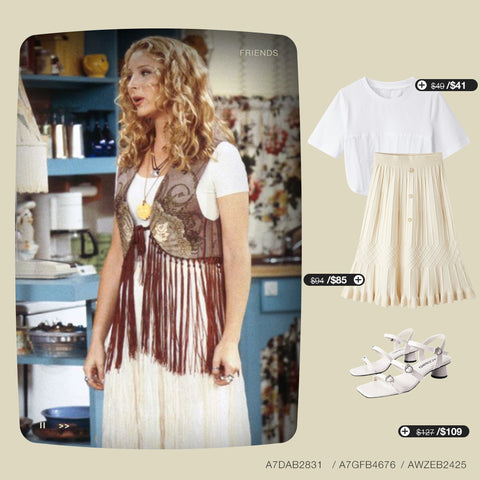 #3. "With

 

a Tracksuit"
Yes, as our "chief cook" Monica always knows, wearing a graphic T-shirt with tracksuits is always the coziest choice for home bakery or chatting with friends at the Central Perk coffee house. You can finish the whole look with minimalist earrings and a necklace.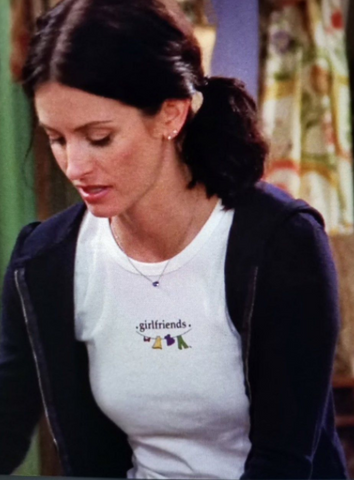 Image: from Pinterest
Ooops, don't forget our Rachel. Before she working at Ralph Lauren, she is a fan of morning running and sporty games. Do you still remember whether the girls or the boys won the game?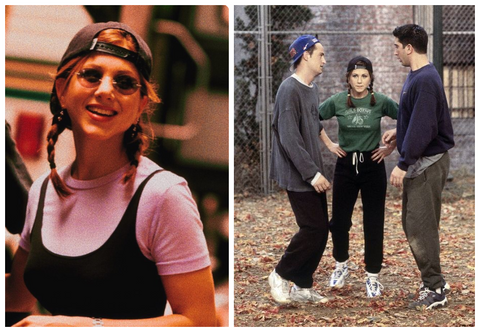 Left Image: from Pinterest
Right Image: from Pinterest
RECOMMENDATIONS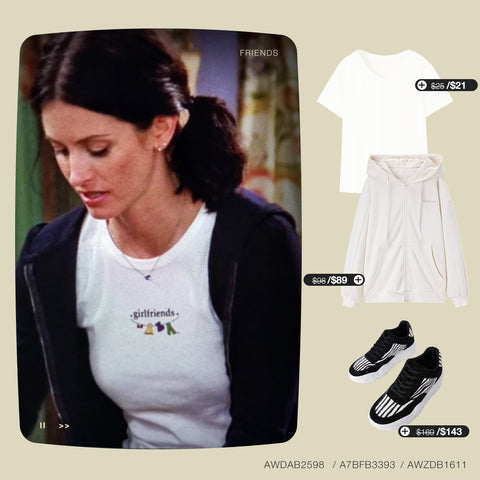 #4. "With

 

a

 Blazer

"
A T-shirt with the pants or skirts might read too casual depending on where you are headed. However, adding a blazer in low saturation colors can elevate the whole look, just like Monica did here.

Left Image: from Twitter(@cox_geller)
Right Image: from sportskeeda
RECOMMENDATIONS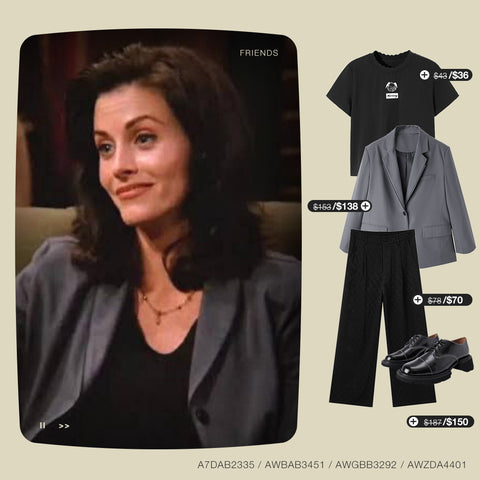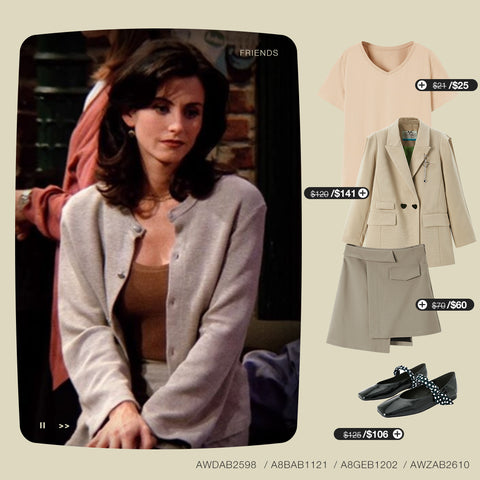 We have to admit, by the time Friends finished, their fashion styles never finish. This is all about T-shirt fashion guideline of our main female characters. Tell us which one is your favorite and if you want to see more about Friends outfits.