"I hate everyone else in the world but you."
——Rue & Jules
Do you often feel lost and anxious when you were a teenage? Time and time again, HBO's hit drama Euphoria has ignited the public's enthusiasm. Adolescents' anxiety about themselves and the world is fully revealed through their drug addiction and toxic masculinity to gender identity.
Rue is deeply addicted to drugs, Cassie loves Nate wholeheartedly but really hurt, Fez is gentle and willing to give everything to his friends, and Maddy is confident but vain…
"They're just reaching for something to make it all seem meaningful."
Image: from Instagram@Euphoria
Euphoria head designer Heidi Bivens brought a fashion trend named Euphoria to the mainstream attention, such as an American retro outfit, sexy skirt with a tight top, the outfits of the boys as one of the protagonists are also amazing.
Compared with girls' provocative clothes, euphoria men's outfits might be easy to ignore, but no one could deny that the casual outfits for men show their characters as well and would be easier to follow.
In this guide, you would find the way to follow Faz and Nate's iconic looks.
Image: from HBO-Euphoria
Freckles, beards, with his clear eyes and gentle words, knocked down scumbag Nate with one punch, Fezco was destined to be beloved from the start. Angus Cloud who plays Fez in Euphoria, his outfits in and out of the play are dominated by street elements.
Image: from HBO-Euphoria
Turning attention to Nate, leave the character's own personality aside, Nate's outfit presents another sense of atmosphere. The slightly tight-fitting T-shirt outlines the actor's sexy figure. Though the choice of color is much simpler than Fez, but it still does not affect his charm. 
Now, scroll down to see how Fezco and Nate wear in Euphoria
.
#1: Varsity Jacket + Casual Shirt
Classic Never Goes Out of Style
Left Image: from @jacobelordi
Right Image: from @anguscloud
When it comes to classic American retro wear, you have to mention baseball varsity jacket. With a retro two-tone style and color contrasting sleeves, baseball jackets have been a darling of the fashion world from high school to the runway. Whether it is a classic black and white collocation, or a bright color style, just matching a simple solid color T-shirt and jeans can easily create a youthful and casual image. Of course, it would be chic for ladies to wear boyfriend's jacket as your oversized varsity jacket.
RECOMMENDATIONS
#2: Sweatshirt
Try Some New Styles
Image: from HBO-Euphoria
A comfortable and loose sweater is the best choice for everyday outfit. The classic solid color is low-key and stable, and different embroidery patterns create a completely different atmosphere.
Image: from HBO-Euphoria
And it is worth mentioning that the checkerboard is also a popular fashion element. Angus, who has his own opinions on fashion, also loves the colorful checkerboard design.
RECOMMENDATIONS
If you have children, you can also try this checkerboard, easy to get parent-child clothes. The classic black and white checkerboard design is very fashionable, and the three-dimensional bear embellishment on the chest and the full printed LOGO add a cuteness. Comfortable fabric is perfect for kids.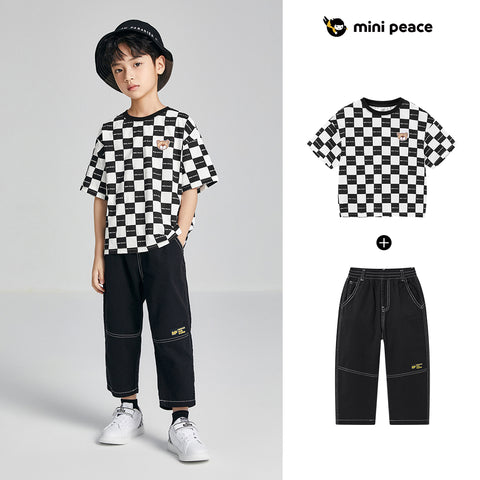 #3: POLO Shirt
Rigorous Yet Stylish
Images: from HBO-Euphoria
We can often see the boys in the show wearing polo shirts and jeans. Polo shirt is a simple and classic piece of clothing. With its unique collar and fabric, you can wear it on any occasion. Pair it with trousers for serious occasions, or pair it with jeans or slacks for everyday outfit.
RECOMMENDATIONS
The above is a summary of outfits from Fezco and Nate, hope it will help you.
Don't forget to have your comments below and tell us what else Outfits in hit dramas you're interested in.