Intro:
Hanfu, one types of the traditional Chinese clothing, is the attire of the Han ethnicity with a history of more than

3,000 years

. Hanfu dress is generally featured by ribbons, hidden buckles, and crossed collars tied to the right. Various styles like high waist skirts then evolved in different dynasties.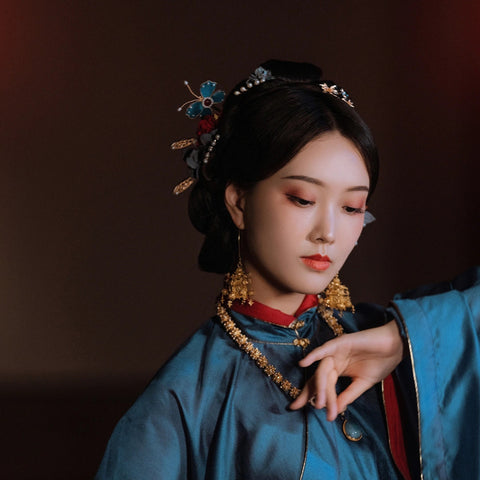 Shiyin Wears Traditional Chinese Hanfu
Image from @十音shiyin in weibo
Shiyin, who is a famous Chinese influencer with 107.3 million followers on Weibo launched a series of videos about the differences between Hanfu and Hanbok which sparked hot debate. In 2021, Shiyin was featured by American Vogue's March issue as the face of China's Hanfu Movement which promoted the Hanfu culture to the world once again.

In today's article, you could quickly get to know:
The 1st wave of Hanfu movement in China

The modern way of wearing Hanfu

Hanfu in special occasions

Hanfu and global fashion industry
1. The 1st Wave of Hanfu Movement in China
There was already a social trend towards revitalizing Chinese Hanfu culture at the beginning of the 21st century. This is because, Han ethnicity makes up the majority of China's total population but they have lost their ethnic attire due to complicated historic changes. Therefore, the early enthusiasts launched the Hanfu movement by creating Hanfu clothing communities and organizing activities. They expected Chinese people could perceive Hanfu as a symbol of an ethnic identity instead of any individual identities. But due to the lack of the public's interests at that time, the early supporters met lots of misunderstandings and questions such as Are you crazy? or Are you actresses or actors?
2. The Modern Way of Wearing Hanfu
A Girl Wears Chinese Hanfu in Sydney
Image from @777钟 in Red Book
In recent years, Hanfu is getting globally popular among young people. Compared to the early supporters with the particular focus of the formality and authenticity of Hanfu, today's young enthusiasts wear Hanfu in a more casual way.
A Lady's Outfits: Traditional Chinese Hanfu with Hermes
Image from @红墙里跑堂的巴熙

 

in Red Book
In China, especially in developed cities like Shanghai, young people often dress in modern Hanfu and hang out with friends in big shopping malls. When speaking of the modern way of matching up Hanfu, Shiyin said, "Many young people including me often do traditional hairstyles when we wear Hanfu but we will keep our makeups modern. I guess the main reason might be that the perception of "beautiful" is just so different from what we consider in the past".
Luna Wears Hanfu with Cat
Image from @Luna in Red Book
In global context, people from different countries also show great interest in wearing Hanfu. In order to show the respect to the Hanfu, many of them even don't cut their hair for a few years to wear Hanfu. Besides, they will learn the basic system of Chinese etiquette to make every move full of elegance.
Even little cuties joined the hot trend of wearing Hanfu. On the one hand, many parents encourage their kids to experience the special custom of Chinese culture by sending them to attend traditional education activities such as first writing ceremony.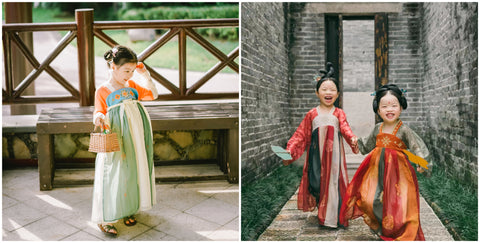 Left Image from @Shanshan in Red Book
Right Image from @DikiCreate in Red Book
On the other hand, parents love to take beautiful photos to record the moment of kids' growth so that they are more likely to purchase kids a Hanfu clothing to make sure the photo is special and stunning. Also, attending Halloween with Hanfu costume is getting popular. Who can say "no" to a little cutie in a beautiful Hanfu? Give them sugar quickly!

3. Hanfu in Special Occasions

It is interesting to note that more and more people love to wear Hanfu for different special occasions which no longer limit to Chinese cultural festivals. Here are some great examples you might want to know:
A Girl Wears Hanfu in Her G

raduation Ceremony
Image from @海盐恺妍 in Red Book
Chinese Hanfu Showed in Halloween
Image from @小十八儿 in Red Book
4. Hanfu and Global Fashion Industry
Modern Hanfu is now even on trend in international fashion industry. For instance, a collection of Hanfu which mixes Chinese traditional style with modern design was showed on the last day of the 2020 Paris Fashion Week. Wearing Hanfu today doesn't equate to giving up all modern life. Instead, Hanfu could be well integrated into modern elements and modern lifestyle.
Chinese Traditional Dress Hanfu Showed in 2020 Paris Fashion Show
Image from @环球娱乐网 in Weibo
On the other hand, although many haute couture Hanfu collections are in beautiful design and can perfectly fit your body shape, they are normally highly expensive. In fact, many Chinese local brands including
Peacebird l
aunched
modern Hanfu collections
which are easier to wear with more affordable prices.
Modern Hanfu from Peacebird
Overall, Hanfu not only brings Chinese people a strong sense of national identity but also enables people from different cultural backgrounds to experience Hanfu culture and enjoy the unique Chinese fashion style.

We hope this article helps you understand the Hanfu culture as well as gives you inspirations about wearing Hanfu in different styles in different occasions. Don't forget to leave your comments below and tell us what other Chinese traditional costumes you would like to know next time.